Bohn Adventure Armour (review)
---
I thought I'd take this opportunity to write a review of the Bohn Adventure Pants that I have worn while riding this summer.
I wanted to be able to ride in either jeans or my Deluth Fire Hose pants yet still wanted some form of impact protection should the worst happen. Riding specific pants are fine, but when you're going out to dinner, etc, you don't always want to be looking like a rider. I wanted armour under my regular jeans, etc for those casual dinners, etc.
After looking around a while, I decided to spring for a pair of the Bohn Adventure Pants in the Adventure Lycra weight ($159.oo USD). They are also available in a Winter Thermal Lycra and a CoolAir Mesh for a few dollars more, but as our Canadian seasons vary, I felt the mid choice weight would be just fine.
My jean sixe is 40" x 36" so I ordered the XXL size and it is pretty much spot on for fit on me. They have a zipper on the lower part of the leg to get them past your ankle and that also when closed tightens up the fit on the lower legs which holds the knee armour exactly in the right place. I tried them both with and without the thigh armour and after a few rides figured I'd just leave the thigh armour in for full protection.
Overall I find the fit so comfortable that I honestly just forget I'm even wearing the armour, they are that comfortable. Yes, of course it is a bit warmer than no layer at all, but for all my rides I never did find them excessively hot to the point I wished I didn't have them on. And that included rides up to the area of 32-34C (90-94F).
You can take all the armour out of the pockets so that you can wash the lycra layer though it is a little fiddly getting it all back in. Especially the first time if you don't remember the shape of which piece goes where and in what orientation. You'll know better the second wash! LOL!! It's called live and learn.
Overall I have no problem recommending these to anybody who wants more protection than just jeans, but not the full riding pant regalia.
Here's a link to their website and some more info.
https://www.bohn-armor-pants.com/catalog/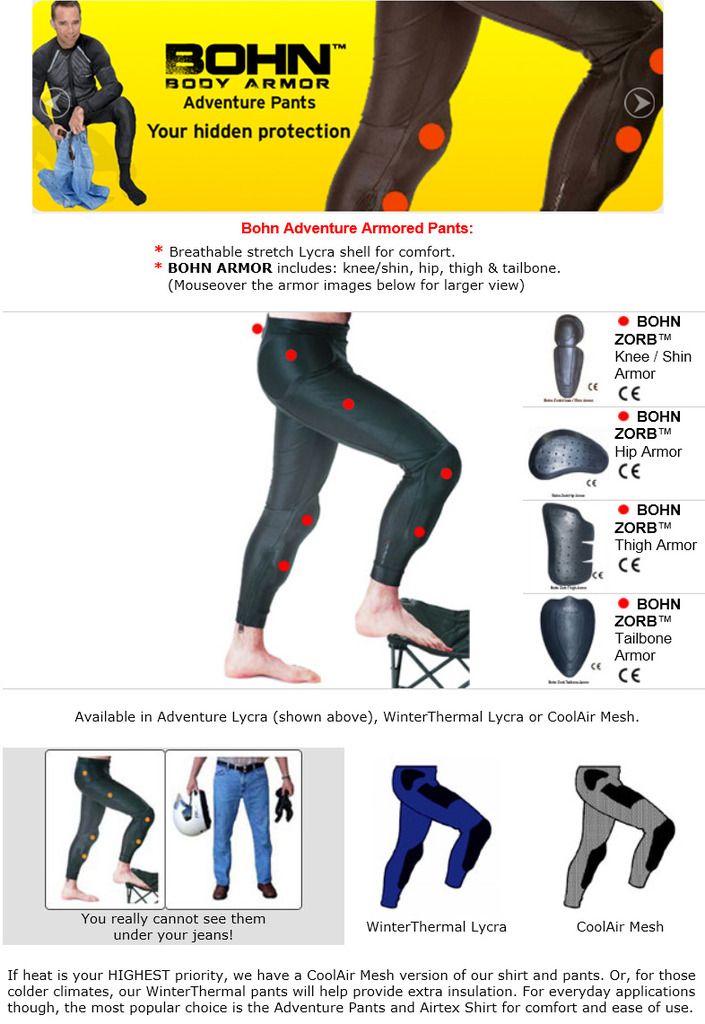 Thanks for the review, Steve. These product reviews by BUSA members are always so helpful. Back at the beginning of the year, I was considering springing the dough for one of these. $159 is a low price for something on the order of a helmet, but just seemed to be above my budget for leg protection, as I have both armored jeans and Icon and Bilt exterior leg armor pads that can be velcroed around your leg that I use on my commute to work. That said, I always wondered about these things, as their advertising is almost ubiquitous in M/C oriented publications. Nice to know that someone out there likes them a lot and it may very well influence some of us (myself included) to get some Bohn armor someday.
Again, thanks.
Super Poster
Join Date: Jul 2016
Posts: 202
Looks like a good idea.
I always wear knee pads and, even when wearing a motorcycle jacket, I will wear elbow pads too. Lately I have been wearing (I am pasting now): Goldfox Motorcycle Motocross Racing Ski Armor Pads Sports Hips Legs Protective Pants Hockey Knight Gear. I wwanted something I could wear under street clothes and these are very good for that. This pair of armored pants are modestly priced and do the job. 160$ is more than I cared to spend--but if it saves you from a ruined knee cap or a broken hip it is worth a million.
https://www.amazon.com/gp/product/B0...?ie=UTF8&psc=1
Active Member
Join Date: Mar 2017
Location: Powell River B.C. Canada
Posts: 29
Just bought a pair of Bohn lower body armor after I was unable to find armor pants that fit correctly. They are so comfortable you hardly realize you are wearing them, and the best part is they can be worn under jeans, khakis, sweat or track pants. And to wash you just remove the padding inserts and launder the tights. You can even get extra tights without armor so you can change without washing on longer trips. Their size chart was right on for me and even though I am lucky enough not to have needed their protection yet, I am confident in the safety they will provide.
Thank you Steve for the timely review.

I am leaning toward the Adventure Lycra outfit myself. I have never bought anything on-line thus far and this may be my first adventure in to that new territory.

Thanks for the back up review Bud 1955.
---
Let me ride 'til I croak.
To view links or images in signatures your post count must be 10 or greater. You currently have 0 posts.

Those look nice, but I wear shorts all summer so I'm looking for a pair of protective overpants I can quick slip on over my shorts. Any ideas?
I have all kinds of moto cross gear but I'm not wearing that on my Burg, lol.
During the summer I wear a pair of Tour Master Air Venture pants. I am sad to find out that Olympia no longer makes it's one piece mesh suit, I was hoping to buy one.
---
"Don't remind me of my failures I have not forgotten them" J. Browne