Super Poster
Join Date: May 2008
Location: Everett, Washington
Posts: 213
vvme.com Bi-Xenon HID headlight kit
---
This is my latest and most recent "upgrade" that I have added to my Burgman 650 Executive.
I would like to share this with all of you because after having this kit installed on my Burgman for two weeks and having had the opportunity to ride in the dark every day for the last two weeks (commuting) I can tell you that the difference between a true HID (High Intensity Discharge) headlight system and a halogen bulb are literally a night and day difference. The added safety value of being able to see up to 2 and 3 times a well with this light system versus the stock halogen bulb system is truly a welcome addition to my night/early morning time riding.
VVME's HID kit is offered in many different bulb types to suit many different vehicles. The kit that pertains directly to the Suzuki Burgman 650 and the kit that you will want to order for your Burgman 650 is this one: Standard H4-3(9003) Bi-Xenon HID Kit found here:
http://www.vvme.com/standard-h439003-bi ... h=44_46_35
The Burgman 650 uses an H4 style headlight bulb. The H4 bulb is what's called a dual filament bulb in that it has a filament for the low beam and a separate filament for the high beam both contained within the same bulb.
HID lighting does not have a filament but instead creates light by igniting an electrical discharge between two electrodes in an air tight tiny quartz capsule filled with xenon gas.
Since HID bulbs do not have dual filaments in them like our traditional H4 halogen bulbs installed in our Burgmans the HID kit utilizes what's called a BI-Xenon technology. Basically what that boils down to is this, your H4 bulb in the Burgman runs at 55 watts on low beam and 65 watts on high beam. The Bi-Xenon HID kit only pulls 35 watts from your electrical system whether on "low" beam or "high" beam (which gives you more power for any other toys you want to hook up to your Burgman). Bi-Xenon bulbs come with a control unit that handles the low vs high beam. The bulb is actually blocked so that the beam is directed down while in low-mode. When the car's electronics are engaged and the high beam is selected a magnet moves the bulb so that it is no longer blocked and you get "high" beam.
With this kit you do not have to worry about losing your flash to pass ability as it still works perfectly.
VVME.com's website (
http://www.vvme.com/index.php
) has a lot of great information regarding HID technology and is worth taking the time to read through some of it if you're interested in buying a kit like this, regardless of the manufacturer.
Now the big question you have is "how much does something like this cost"? Well, I have great news because this kit only cost me $79.99 shipped directly to my house directly from the manufacturer and it only took 4 business days to get here
This kit is truly a "plug and play" kit as VVME advertises it. All of the connections can only be connected one way due to the different harness connections. The only wire splicing you will have to do to install this kit onto the Burgman is to run the single power and two ground wires back to the battery under the Burgman seat.
This kit literally has everything in the box you would need to install it onto a car application. Since you are not installing it onto a car, but onto your Burgman, you will need to buy some extra 14 gauge wire and a pack of wire connectors to extend the 12 volt power and ground back to your battery.
Here are some pictures of the kit and it's contents as I recieved it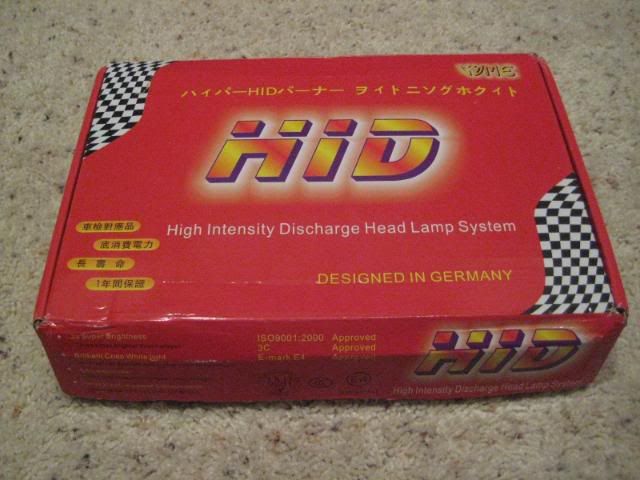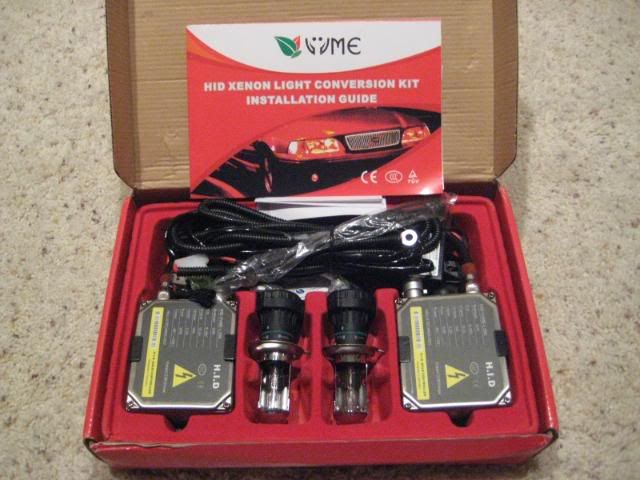 Here is a picture of the wiring directions included in the kit
Here is a picture of the contents of the kit
Here are some close up pictures of the bulbs. To install the bulbs you "unlock" them from the part that installs into your stock bulbs location with that annoying metal tab that locks your stock bulb into place. Then you reinstall and "lock" your new HID bulb into place by twisting it into position.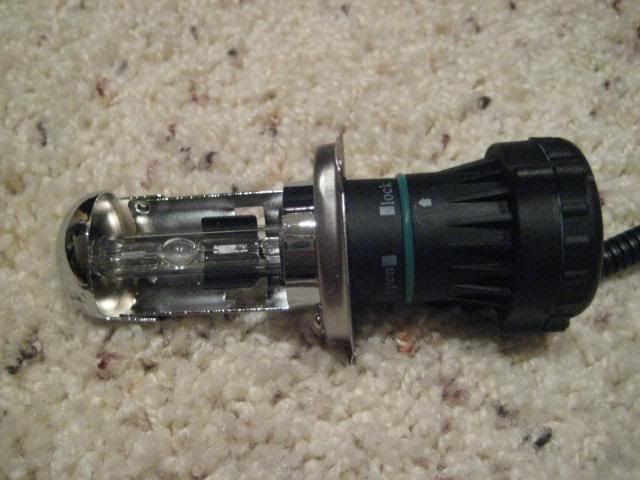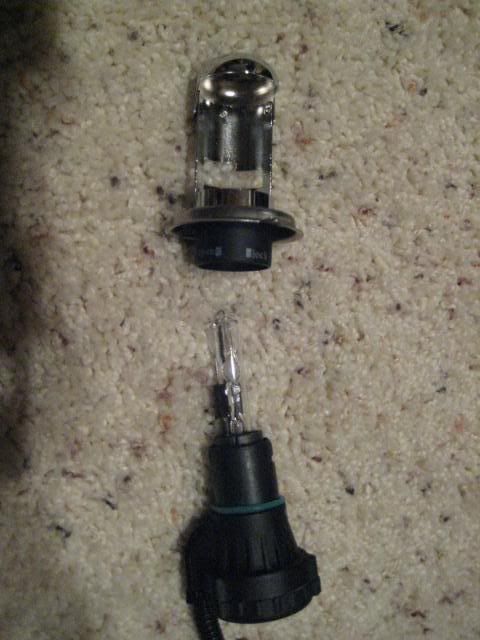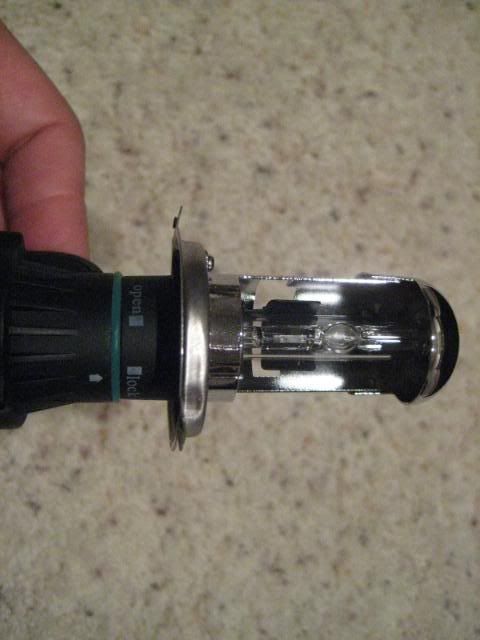 The picture below shows the harness that plugs into the 3 prong plug that plugs into the back of your stock headlight bulb. This harness plug reads the signal when you switch between "high" and "low" beam. The stock plug that you don't use on the other side of the burgman can be wrapped up in something water proof and zip tied out of the way.
The wiring harness on this kit comes with a 30 amp fuse already installed into the power wire
Here are a few pictures of the kit laid out on the floor showing which connectors go to what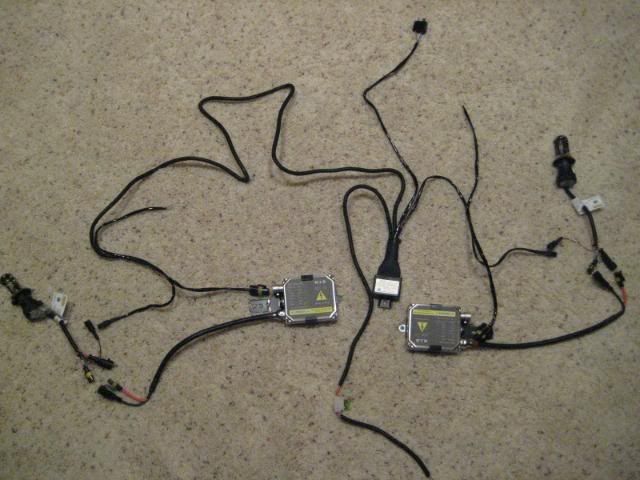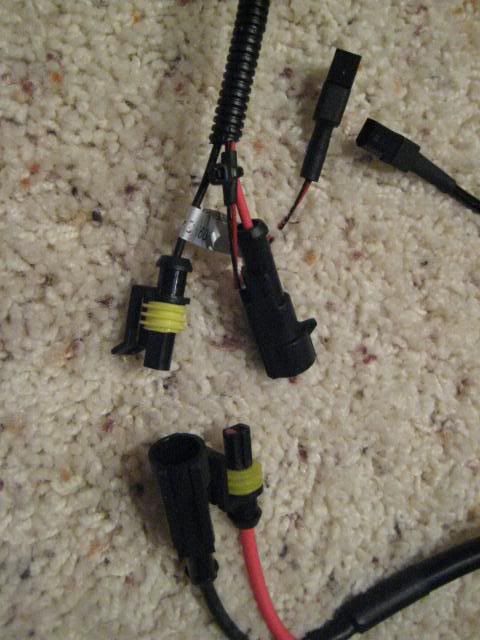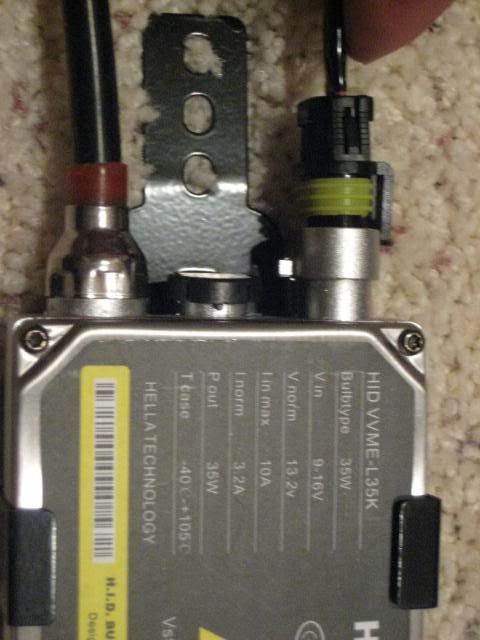 I didn't take any before or after pictures of this kit versus the stock Halogen bulbs as you can find MANY such pictures all over the internet. Plus, I didn't have the stock bulbs installed anyways. I had Sylvania's silverstar ultra bulbs installed. As good as the Sylvania Silverstar ultra bulbs are, they truly are absolutely NO COMPARISON to this HID kit period!!
Here are a few pictures of where I mounted the ballasts and the relay/control harness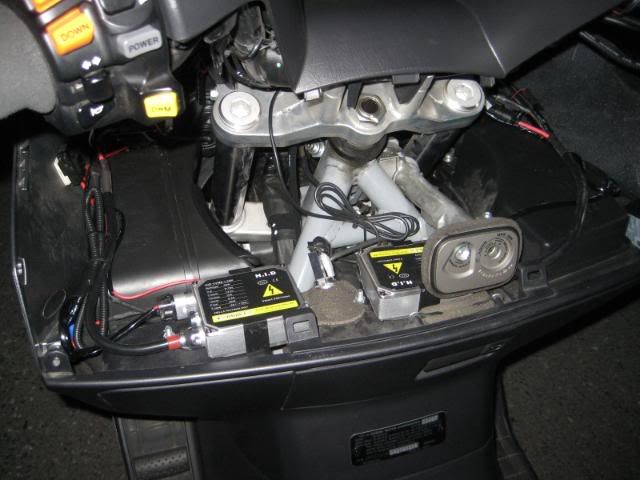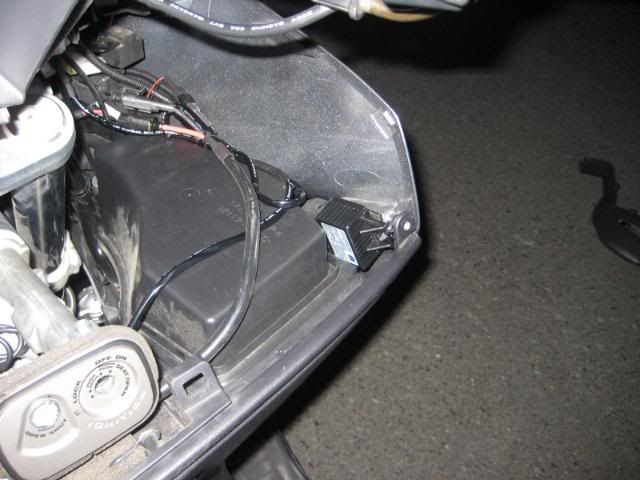 Here are a couple pictures of the HID kit first on "low" beam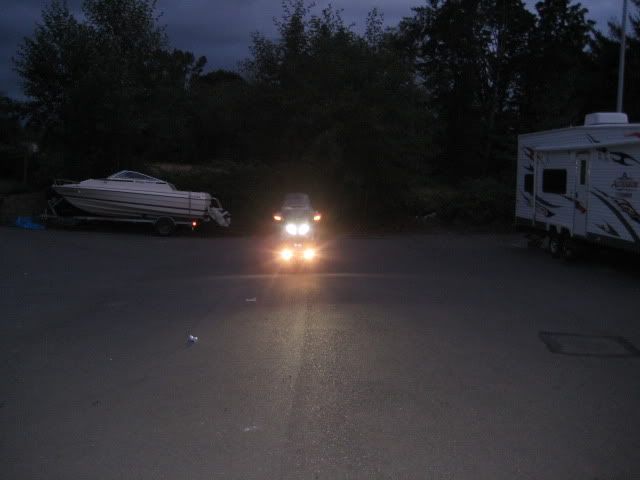 Here are a couple of pictures of the HID kit on "high" beam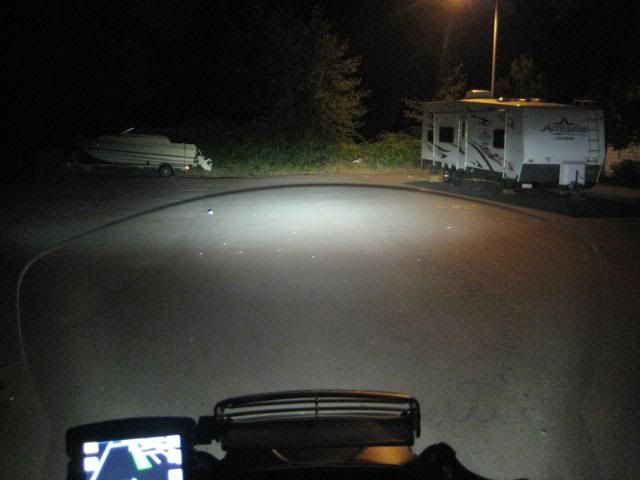 On a positive note, I have been riding with this HID kit installed now for two weeks and have not had any oncoming drivers flash their high beams at me at all. That tells me that our stock headlight housing is very compatible with this HID kit and not blinding oncoming vehicles at all.
So far I would highly recommend this kit anyone considering adding HID headlights to their Burgman. The kit components seem to be of good quality as does the wiring harness. Out of curiosity I opened the ballast back plate and also popped open the control/relay harness both of which are absolutely filled with moisture and vibration proof resin....very nice!
---
Clearview medium/vent
Mueller mounts
Givi E21 Cases
Givi E52 Case
Givi E95S back rest
Givi E98 liner
Throttlemeister
AdMore Lighting LED kit
GPS Magellan Maestro 3200
RAM Mount
Grip Puppies
Martin Fabrication driving lights
VVME.com HID Bi-Xenon Headlights