Super Poster
Join Date: Jul 2008
Location: Ann Arbor, MI
Posts: 169
Hit Air Airbag Jacket
---
When I decided to get my scooter I also decided to spare no expense on safety equipment. I figured I needed protection from cell phone toting SUV drivers here in Ann Arbor. So I did my research and picked out a jacket line that provided the safer CE armor as well as the airbag system. I decided to go with the Hit Air line imported from Japan. These jackets are imported by PEDCO LLC. and retailed on bikebone.com in the US. I will add some foreign links at the bottom of my review.
I was real particular about what I wanted. I wanted a three season jacket with vents, some rain protection, a decent look, and of course accident protection. I got the Motorrad model in light grey with the chest, and CE back protector.
The jacket has a very nice look to it. There is use of multiple materials on the outer shell to give rain resistance, breath-ability, abrasion resistance, and reflectivity. It was six vents for those hot summer days; forearms, 2 chest & 2 rear. The use of the Knox CE armor in the shoulders and forearms/elbows was impressive for me. With the hard chest protector, and the CE back protector added I have ample initial crash protection. The jacket has three storage pockets on the front with snaps & velcro, a zippered key pocket on the right sleeve, a velcroed pass pocket with a clear lens(perfect for toll or park passes) on the middle left side, and an inner zippered chest pocket on the right side. The jacket also has ample use of reflective material to increase your night visibility. The upper arms have a tensioner system to reduce flapping at higher speed. The textile work on this jacket is well thought out, and much thought was given to its function design, and use.
The core of this system is the airbag system. The armor helps with initial impacts, and sliding, but the airbag is designed to deploy if you are separated from your machine. There is a lanyard that is attached to the frame of your bike that activates when given a hefty tug (55 lbs.). This airbag inflates as the rider is being separated from the vehicle. The airbag protects the neck, chest back, hips and tail bone.
[youtube:2pihl9dt]uAYmnjwYsNM[/youtube:2pihl9dt]
[youtube:2pihl9dt]0aCkRRGL1rw[/youtube:2pihl9dt]
Here a few shots I took of the jacket.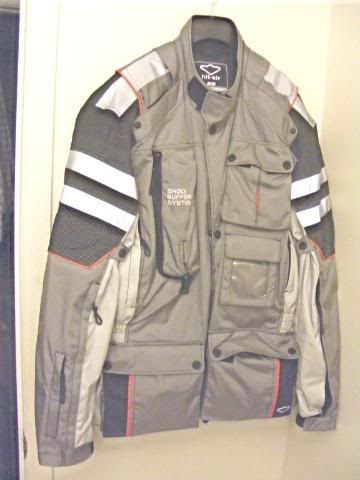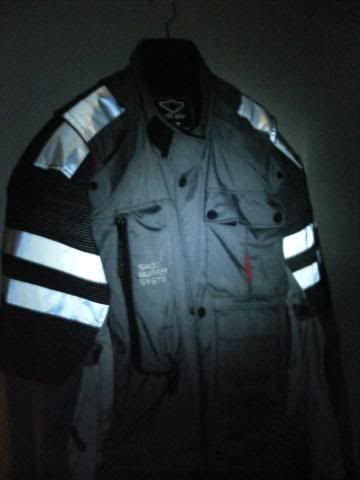 I am very happy with my jacket, and it is very clear to me that the Japanese company that manufactures this jacket is very concerned about product quality and design. I highly recommend this jacket for those that want that premium protection while on their two wheel adventures.
These airbag systems are made for men, women, children, and are available in motorcycle, and equestrian vests also.
This is the English version of the Manufacturer's site.
http://www.hitairaustralia.com/frames.htm
A few other links.
http://www.youtube.com/watch?v=wFy6kGZ2LKk
http://www.bikebone.com/page/BBSC/CTGY/AT
Foreign links
http://www.hitairaustralia.com/
http://www.windbell.ca/air_jacket.html
http://www.hit-air.com.br/annai/index.html
---
Blue 400K7, 48L Coocase, HID Rt & Silverstar modulated Lt headlamps, Givi windshield, Hand Guards, Dragon Customs riser, Brakeaway, Grip Puppies,
ATGATT
Hit Air airbag jacket, Arai Quantum/f helmet, Firstgear Escape pants & armored gloves, Tourmaster Response SC boots