650 for LIFE
---
It would be an understatement to call my riding style "spirited". For this reason, after buying a GSX-R750, the only scooter that would do is the Burgman 650. I love power. I don't mind the weight. I love the cargo capacity and chilled out styling. I have the executive model, so I can even fold in the mirrors on the fly and lane split.
My spouse is a bit afraid of the weight of this machine I bought for him, twice he panicked and needed assistance dismounting as the scooter nearly fell over. Could be a medication issue, but in any event, I thought "ok, if this 650 is too heavy for you, let me consider a 400". Yesterday was the day I investigated further.
My day began with SMS to the two Burgie 400's in Colorado Springs. It's 110 miles from door to door, no biggie on something as comfortable and potent as the 650. I got a nearly instant reply to the first one, and then looked at traffic. ERF – 45 minutes DELAY, plus regular transit time. I decided upon a slightly later departure time. I ate a huge bowl of cereal, zipped in my winter liners in both the jacket and pants, found the winter gloves, and tried again calling the OTHER 400 owner.
I hit the road, not checking on fuel before I left. I zipped through the entirety of the Denver metro, north to south, in record time. I used the HOV lanes free (thanks to stupid decisions by our esteemed lawmakers, only 2 wheelers are exempt from fees, not even 100% electric cars get that privilege), and efficiently passed about 1000 cars, finding those big spaces cars can't squeeze past to utilize. Seriously, folk, if you're driving slower than the flow, move to the right. I gave up on that a long time ago, now I work the passing to the max.
Clear of the metro, I was cruising around 80mph, and all of a sudden, the power went to zero. I could feel the engine braking effect, and immediately pulled over. OH S**T, I was thinking – burgie just passed inspection with flying colors, so what could possibly be wrong? Well, turns out my brake reservoir ram mount ball, with phone attached to that for navigation, was just blocking enough of the view of the fuel gauge to make me fail to realize I had not even close to enough fuel to complete this ride. There was only 100 on the trip odometer since the last fill up when I left, and I did not realize that a FULL tank on the 650, with my 42mpg average (yes, spirited) gives me an effective range under 150 miles. OOPS. The fuel light was BLINKING but I didn't see it until I was troubleshooting.
I checked gasbuddy on my phone, and found I was only 1.8 miles from the nearest fuel station. No problem, right? WRONG… it was all uphill, 4% or more grade. I tried pushing for about 15 minutes, stopping REPEATEDLY as I kept getting my heart rate above 160. Pushing a 600lb sled up a 4% grade is better exercise than you might imagine. I don't recommend it.
While I was on my 5th attempt to go up that hill, a motorist stopped 500 feet ahead of my position. I stopped pushing as he ran toward me. I waved, he said he was happy to help. I told him I was embarrassed about running out of gas, and explained the fuel gauge and phone situation. He offered me a ride to that fuel station. I locked the steering, and rode along. On the way, he explained he was a motorcyclist and saw I was having difficulty. If I'd been just sitting it out, he probably wouldn't have stopped, so my efforts to aid myself were not in vain.
Fortunately, the fuel station was a big one, and they had 2 gallon cans for sale at $15. Not even highway robbery! I put in a single gallon (not wanting to carry more if I had to hoof it back in my riding boots), and he again offered to help. He drove me around the loop to get back to my strand point, a good 6 miles round trip. On the way, we got to talking about motorcycles and such, and it turns out he has the EXACT same Suzi – a K6 GSX-R750. We may eventually ride together, and his color scheme has items I can use, mine his. I also have a stator gasket I don't need, and he needs his stator serviced! It was overall an amazing experience, the best this day would produce.
I filled up, started, gave him the thumbs up, and he went on his way. I managed to get gas on my fingers (seriously, can makers, can you design a can that has elements that don't FORCE US to get gas all over ourselves?), so I left my gloves in the underseat compartment. I rode to the station, and filled it up the rest of the way. It only took 2.5 gallons, and I had not completely emptied the gallon I'd put in the can. WEIRD, such a small tank on such a huge beast. The pumps had hand sanitizer, which saved me taking off my helmet to go and wash up. I donned the gloves, SMS'd the seller to let him know about the 45 minute delay, and was cruising again in minutes.
The ride to Colorado Springs was heavy traffic, but plenty of opportunities for passing. I was the fastest one on the road, even with the 75mph speed limit. I had her set in manual mode with overdrive, occasionally switching to 5th for a power pass, occasionally switching to full auto for the gridlock. It seems like any blinking light will have people stopping to gawk.
http://bylagarto.com/images/burgman400-1.JPG
I arrived at the address of the seller, and he wheeled it out of the garage. It was more shredded than I was expecting. The chrome mirror stalks had rust spotting on them. The tires were dry rotted and bald. Front forks had dirt caked on the oil leaking out of them. The brake reservoirs had DARK fluid in them. There was rash on the entire right side, it had been low-sided in motion. The exhaust chrome was rashed. One of the mirrors was missing the glass. UGH. Oh, and it ran like s***. My test drive was to be on the highway, I didn't get it out of his neighborhood. He'd also never registered it, which is bad, it means no plate, no forgiveness from any police if I get pulled over. My intention had been to ride it back, and then get a ride from a car driver over the weekend to pick up mine. That wasn't happening. A K4 400 with 28k miles at $1600 with all those problems? Runs great? Good condition? BOZO.
http://bylagarto.com/images/burgman400-2.JPG
Sadly, the other scooter owner never got back to me. They had a K6 400 with under 10k miles, no damage, and new tires. I'd wasted my trip… but I hadn't. That short test ride made me realize that even with a GOOD condition 400, it would not be suitable for my spouse's morning HOV lane commute, where the average speed is 75+. Putting him on a 400 for that, every day, both directions, 10 frustrating highway miles in each direction, would be a waste. He simply needs to take the MSF course again, and get some private lessons if he's insecure about stopping and low speed tight turns.
I rode back home, remembering to fill up first. I had a blast blasting through traffic, cutting 12 minutes off the Waze time estimate for arrival. I redeposited the cash I'd brought with me and took off my boots. It was the longest riding session I've done since returning to the USA from the Netherlands, longest ride ever on any scooter, and I loved it. The only problem the entire day (aside from running out of gas, which worked out just fine), was my tail hurt… a LOT. I need to remove the backrest or figure out a way to re-engineer it. It was forcing my riding position so far forward, my spine was resting on the corner of the seat. That's not a problem for me on short rides (under an hour), but it had me pining for my GSX-R and straddling the seat with my thighs, instead of my tail. Also, my knees touch the front glove boxes – something they DON'T do on the 400, so yeah, seat mod is next.
alright, that's bizarre - I did manage to bungle the links for the ads, but now I can't edit the post. It has an edit button, but brings up a blank form, with nothing to change! HELP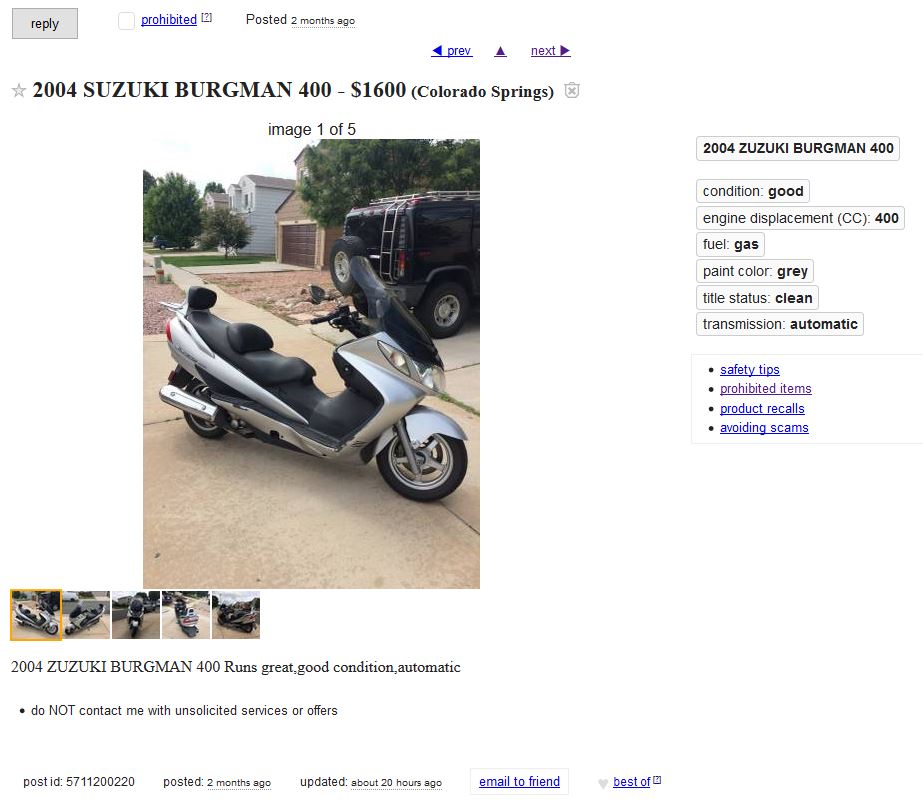 and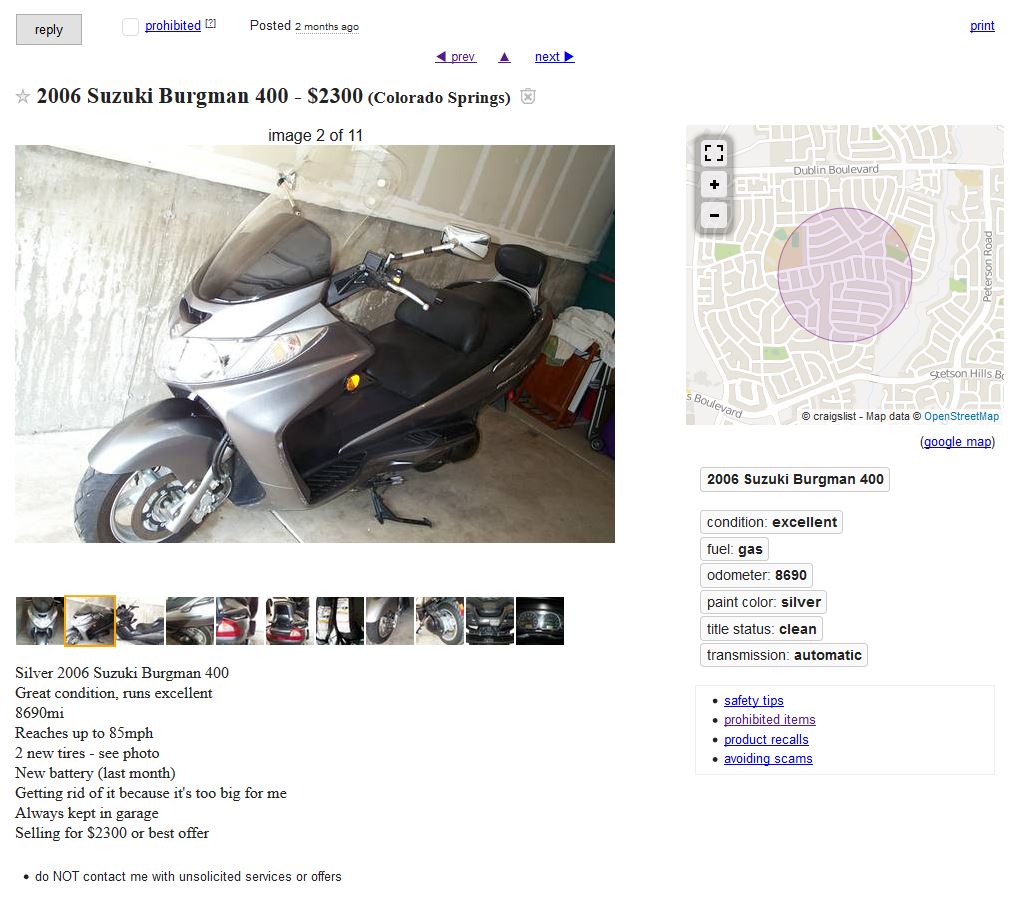 Turbo Poster
Join Date: Oct 2015
Location: San Diego, CA
Posts: 941
Bless the Burg
---

To view links or images in signatures your post count must be 10 or greater. You currently have 0 posts.
SpunN Style
1997-2014 United States Army A/R/SO JFK
Never forgotten, never forgive
To view links or images in signatures your post count must be 10 or greater. You currently have 0 posts.


2007 Suzuki Burgman 650 Gray 20,252 Miles (Love it!)
Active Member
Join Date: Jan 2014
Location: Carlsbad, CA and Los Cabos, Mx
Posts: 93
Great story. Love the 650, and I'm sure the 400 is equally fun in the proper environment. For me it's freeway to get anywhere fun so the 650 takes me along just fine in the HOV lane at speed. Then when I get to the fun part of the ride it works great on that two lane ribbon of highway.
Insane Poster
Join Date: Dec 2013
Location: St Petersburg in Sunny Tampa Bay Florida USA
Posts: 1,574
That 04 400 ad did not have the odo reading. I would not look at anything if they don't tell you the miles.
---
Al in Sunny Tampa Bay Florida (St Petersburg)
2006 Burgman AN650 K6 White (The White Knight)
2008 Burgman AN400 K8 Red (The Red Baron)
1977 Honda CB 750 Silver
1977 Penneys 50 Moped Red
1974 Yamaha 360 MX Yellow
1973 Yamaha 80 MX Silver
1972 Honda QA 50 Red
1971 Kaw Bighorn 350 Enduro Brown
1970 Kaw H1 500 Red
1968 Kaw 120 Scrambler Red
1968 Kaw 120 Scrambler Blue
As far as the cages go, I've had all kinds,
but Toyota's Rule, no doubt!
John 3:16
Burgman Owners Map:
https://
To view links or images in signatures your post count must be 10 or greater. You currently have 0 posts.
Burgman Travel Stops Map:
https://
To view links or images in signatures your post count must be 10 or greater. You currently have 0 posts.
35802347796%2C-74.57433601542971&z=7
Quote:
That short test ride made me realize that even with a GOOD condition 400, it would not be suitable for my spouse's morning HOV lane commute, where the average speed is 75+. Putting him on a 400 for that, every day, both directions, 10 frustrating highway miles in each direction, would be a waste.
Given his apprehension I think he would really enjoy the 400. I ride to work everyday on the freeway and 75-80 "actual" is not an issue. But it's not for the squeamish on a 400 in heavy crosswinds. But I say you're on the right track. Next time take him with you to test ride a 400. Sound like your tastes vary.
---
2004 Burgman 400
First off, try an 08+ Burgman 400. Big improvement I think you'll find. They cruise at 85+ Mph just fine. Not quite the power of a 650, but infinitely easier to ride.
Second, your seat situation can be easily remedied with these two products. I recommend them for both the 650 & 400.
301 Moved Permanently
http://www.3brothersperformance.com/
All day riding comfort and zero guilt on the wallet. Best couple hundred bucks I've ever spent.
Good luck on the search. The Burgmans are fine machines.
---
"What is your measure of success? Warren Buffett has always said the measure is whether the people close to you are happy and love you." Bill Gates

Liamjs
Ingrid - '07 Blue Burgman 400 (56k mi) - original owner
Jesse - '05 Silver Burgman 650 (27k mi) - 3rd owner